Together We Empower: Rekindling Hope in Rural India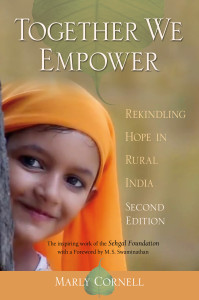 A National Indie Excellence Award Winner for Multicultural Non-Fiction,  Foreword Reviews' INDIEFAB Book of the Year Finalist in Social Sciences, and the 2016 International Book Awards (IBA) winner in Social Change.
by Marly Cornell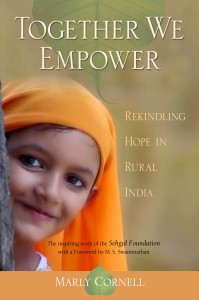 ISBN 978-0-9906207-3-0 (paperback) 6 x 9 ·  256 pp
Social Science / Rural Development
Sehgal Foundation· January 2016
Second Edition with index ISBN 978-0-9906207-6-1  (ebook) 280 pp August 2016
Together We Empower offers a close look at a unique NGO that has been working in partnership with communities in rural India since 1999. The history of Sehgal Foundation illustrates a path of rich progress along with some missteps that resulted in valuable learning. This record reveals the rationale and the hearts behind the organization's entrepreneurial approach to rural development—an undertaking that is deeply rooted in a team culture, collaborative relationships, and an unwavering commitment to making a positive difference in the lives of the rural poor.
"A roadmap for development workers and organizations engaged in initiatives to bring about sustained long-term social change in partnership with communities and a must-read for students of rural development." ~Deep Shikha, PhD, Department of Economics, St. Catherine University, Minnesota
"Educating and mobilizing citizens to invoke democratic processes to access justice is what the rule of law demands and what Sehgal Foundation is doing in India's rural villages." ~N. R. Madhava Menon, LLD, IBA chair of Continuing Legal Education, National Law School of India University
". . . a model worth emulating." ~Ajailiu Niumai, PhD, Centre for the Study of Social Exclusion and Inclusive Policy University of Hyderabad, India
". . . a how-to on sustainable development carried out by a unique organization." ~ M. L. Kansal, PhD, Water Resources Development and Management, Indian Institute of Technology, Roorkee
". . . a timely publication that serves as an affirming flame in the midst of the sea of despair." ~from the Foreword by M. S. Swaminathan
Seeds for Change: The Lives and Work of Suri and Edda Sehgal
by Marly Cornell
ISBN 978-0-9906207-1-6
Biography / Social Science
Sehgal Foundation· October 2014
6 x 9 · Paperback · 276 pp  Award winner!!
National Indie Excellence Award (1st place), Midwest Book Awards (2 gold),  Foreword Reviews Indie Fab Book of the Year (2 silver), and a Ben Franklin Award (silver). Winner of International Book Award (IBA) in biography.
Seeds for Change documents how Suri and Edda Sehgal, refugees who each escaped dangerous and difficult circumstances as children, came to America as young adults (from India and Germany respectively), met and fell in love, and went on to have more astonishing experiences as talented and visionary business leaders, generous philanthropists, and proud Americans. As a crop scientist, seedsman, and agricultural visionary, Suri became a respected and pivotal figure in the development of the global hybrid-seed industry. He and Edda have shared their resulting good fortune with those in need around the world. Their personal history is a chronicle of remarkable events and people, but most importantly, an enduring lifelong commitment to helping others that is their family legacy.
"Written in a warm, engaging style, this is a story about breaking barriers, pushing boundaries, forging connections, and planting seeds in the hope of a better tomorrow."
~Rekha Basu, Des Moines Register
"Seeds for Change is a great story that skillfully weaves together Suri and Edda's family, business, and philanthropic histories. I was riveted from start to finish."
~ Max Cowie PhD, seedsman and agriculturist, Queensland, Australia
"A compelling read. Suri Sehgal is a living legend in the field of hybrid seeds."
~ William D. Dar PhD, ICRISAT
The book won a first place National Indie Excellence Award, two first place gold Midwest Book Awards, two silver Ben Franklin Awards,  and a silver Foreword Reviews Indie Fab Book of the year. The book was the winner of an International Book Award (IBA) in 2016 in Biography.
The Able Life of Cody Jane
Still Celebrating
by Marly Cornell
ISBN 978-0-9831777-0-8
Biography & Autobiography / Disabilities
LightaLight Publications · May 2011 (ebook Oct 2011, audiobook 2013)
6 x 9 · Paperback · 336 pp · Midwest Book Award winner!
Marly Cornell tells the story of her daughter Cody, a person of joyful spirit and infectious humor who travels, falls in love more than once, commits to a life partner, advocates for others, and achieves a life of independence—in spite of plentiful and confining physical disabilities. Whether dealing with school, relationships, sex, work, Internet romance, multiple surgeries, bias, barriers, or fear, Cody's charming combination of innocence, wisdom, and sense of fun have a profound effect on everyone she encounters. Through this story of love, laughter, faith, and miracles, Marly illuminates the deeper truth, allowing us a glimpse at something Cody knew all about, the complete inability of circumstance to deflect greatness of spirit, a reminder that each day of life is best engaged with a sense of achievement and celebration.
"The most moving chronicle of life in our special world that I have read to date. An uplifting must-read." ~Paul Olson, CEO, Freedom in Wheelchairs
"Marly Cornell tells Cody's story in an engaging way that will not only touch you but will introduce you to a person who has much to teach us about the values we claim to embrace but often ignore." ~Gary L. Francione, author of Animals as Persons and Rain Without Thunder; Rutgers University School of Law
"Reading this book while going through life-threatening health challenges, I learned more about going forward, knowing I'm living a productive life—and that I deserve to ask and expect more from healthcare."–Julia Washenberger, Disability Linkage Line Options Counselor, Metropolitan Center for Independent Living
"The Able Life of Cody Jane serves as a reminder that life is simply too short to be defined by others' misperceptions of our abilities." ~Cindy Brownstein, CEO, Spina Bifida Association, Washington, DC
The Able Life of Cody Jane: Still Celebrating won a Midwest Book Award.
The Able Life of Cody Jane was published with the support of the Spina Bifida Association.